Forty Years of Fishing on Serpent Lake
Written by Bob Hoeft
I have fished Serpent Lake for forty years–mostly open water fishing, some winter fishing.  In those years I can tell you that the fishing has changed.  There is always something to catch, but the species are not always the same.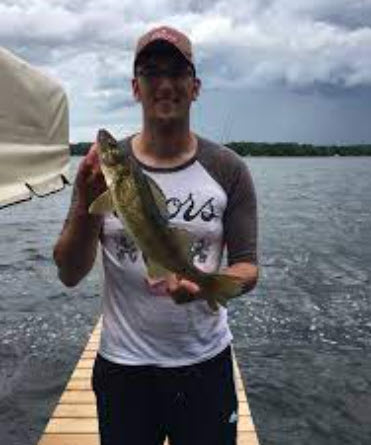 When we first acquired property on Serpent Lake in 1968 I was given a piece of paper that stated over a half million fingerlings had been stocked in the lake in the preceding five years.  It must have been true. The walleye fishing was fantastic!  I have been told that the local sportsman club was active and responsible for this bonanza.
Indeed, walleye fishing remained very good to excellent through the early 1980's. It was not just in the spring either. I recall catching nice walleyes, mid-day or evening any time of the year.  One time my father-in-law and I were checked by two game wardens over by Vinje's point at 2 p.m. on a hot August day just as we were boating a 3 pounder that was #11 on our stringer.  They could hardly believe what we had and said; they were going home to get their equipment and come back to get in on the bounty.
Things changed about 1985.  Two things that I know of happened to make it change.  It was about that time that the local sportsman club stopped stocking the lake.  It was also about that time that Star-Tribune sports columnist Ron Schara included Serpent Lake in his pre-fishing opener Deadly Dozen–the best walleye lakes in Minnesota.
During the good years, 20 to 30 boats would be off Vinje's point during the spring with other boats scattered about the lake. Following that article, professional guides came into the lake year-round to fish walleyes.  It did not take long for the fishing to change.  By 1988 walleyes were hard to come by any time of the year.  In 1988 stocking, which was then apparently done by the Department of Natural Resources, plummeted to a few thousand a year at best.  I told my neighbor and frequent fishing companion, Norman Howe, "You can't catch what is not there".
Occasionally from 1988 on there would be a good spring catch of walleyes, but then they would seem to fade into…well, where do they go? I don't know. What I do know is that catching walleyes in the summer was not successful.   For a few years we would catch sunfish in the summer, and Northern Pike as always.  Springtime was good for a wonderful catch of large crappies if you knew when and where to fish.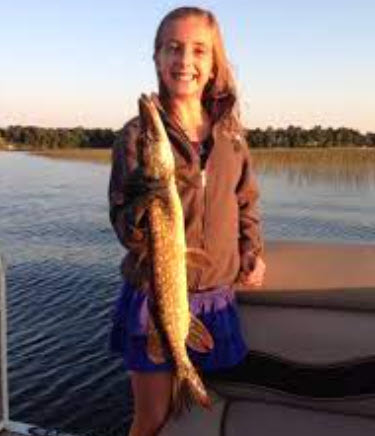 In the summer of 2000, our first year to live on Serpent Lake full time, we had been catching nice sunfish. Every once and a while we would catch a really nice crappie.  I remembered catching summer crappies with my father using a cane pole at lakes in Stearns County when I was a boy.  I wondered if it was possible on Serpent Lake.  Resurrecting 40 year old cane  poles from the dirt where they had been laying behind the garage, my son and I went out one evening in early August and hit an absolute bonanza of 11 to 14 inch crappies.
Some crappies had previously been caught in the summer, but not many really fished for them.  Something new was going on and over the next few years Serpent Lake became known as a crappie lake, though most folks seemed to fish crappies only in the spring.  From that time to the present, spring crappie fishing has been very heavy on Serpent Lake.  So much so that I believe the current stock is very low–especially since the early ice break up of April 2010.
What I have learned in the past 7 years is to fish for Northern Pike.  We will catch a few walleyes,  crappies and sunfish at various times.  Even a few bass, which I do not regularly fish for, have been in evidence. I never caught a small mouth bass until about 20 years ago and I do not believe they were in Serpent Lake much before that time.   They do give a good tussle on the line!
The important thing about Northern Pike is to keep fish only 24 inches or less.  This is because they are at the top of the food chain and only a larger Northern Pike will eat a smaller one.  If larger Northern Pike are removed from the lake all that remain are the small ones which  forage on stocked walleyes.  Removing the Y bones has become an acquired skill and I always ask if any bones have been found in the deliciously fried up fillets.
The Department of Natural Resources is now stocking Serpent Lake with 5,000 to 10,000  walleye fingerlings every other year.  This will keep walleye fishing success at a limited level. In conclusion I would say there is always something to catch out there–you just have to go with the flow. As the saying goes in our family,  "You can't catch fish unless you are fishing."