'Doc' Anderson's Story
'Doc' Anderson, who has lived on Serpent Lake for over 90 years, has seen nearly a century of change on the lake.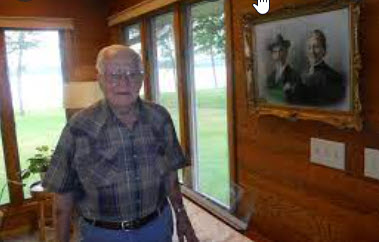 By James P. Gannon
It would be hard to imagine a more rooted and stable life than that of Dr. Allen Anderson of Crosby, who has spent more than 90 years living on Serpent Lake.
On right: Doc Anderson on his porch overlooking the lake, by a portrait of his Swedish immigrant grandparents on wall.
"Doc" Anderson, still going strong at age 94, probably has lived on the lake longer than any other living person. He has seen Serpent Lake change from a largely undeveloped lakeshore of just a few homes to a thriving vacation place and permanent residence with about 290 homes along its shores.
"There weren't many homes at all" around the lake when he was growing up as a boy in Crosby, he said in an interview recently. "I was born in 1917," he said. "I am the 'baby' of 12 children." His parents "got me and quit looking for more," he laughed.
The Crosby house where Doc Anderson was born is nearly a century old today.
Anderson was born and grew up in a house built on the lakeshore in 1914, on N.E. 2nd St. in Crosby. The old home still stands there today after nearly a century. He and his wife Joy live just three doors down the street from his boyhood home, in a 1950s-era brick ranch that has been Doc Anderson's home for 60 years now.
He was interviewed on his lakeside porch under a portrait of his maternal grandfather and grandmother, Oscar and Marie Gullberg, who immigrated to Minnesota from Sweden in 1896. His father, Hans Anderson, was a farmer. About 1890, "my dad bought 80 acres for $250 from the railroad," in what turned out to be an extremely fortunate purchase.
"That's where the Croft Mine is,"Anderson explained. "Iron ore was discovered on our property in 1912. They started mining and moved our house" to the adjoining 40-acre parcel of the 80-acre farm. "Dad was a farmer, but then they found iron ore there and he lived off that. He sent all the kids except one to college"—a remarkable thing in an era when few students went beyond high school.
Anderson speaks fondly of his days of growing up in a big family on the lake. In winter, "we used to make our own skating rink on the lake," he recalls. He and his friends built "ice boats" with skate-like runners and a sail to race across the frozen lake. In those days, spear-fishing through the ice was popular, mostly for Northern Pike. He remembers a neighbor who "had those (frozen) Northerns stacked up like cord wood on the porch."
He attended Crosby schools and in 1935 played on the Crosby-Ironton basketball team that went to the state tournament. After graduation, he enrolled at the University of Minnesota where he earned his degree in dentistry.
"I opened a practice here in Crosby in 1940, then went into the service from 1942 to 1946 and came back," he said. "The first time I went out of state was when I went into the Army." He spent his wartime years at Scott Field near Belleville, Illinois, where he served as a dentist for the airmen of the Army Air Force.
Unlike many other World War II soldiers,Anderson did not catch wanderlust in the service. After discharge, he returned to native Crosby and for the next 40 years was "Doc Anderson," the dentist with an office on Main Street. He retired in 1987 after 47 years as a dentist.
Residential development along Serpent Lake's shore took off after World War II, he recalls. Earlier, there had been some permanent homes and a few resorts, including Hickory Lodge in the 1930s. Some of the cabins at the resort were former "honeymoon cottages"—small workers' homes built by the mining companies for their employees—that had been moved to the lakeshore for resort use.